Passenger Transportation Service

LARGE FLEET
From 6 seater minivan up to 50 seater bus

24/7 SUPPORT
Free fast quote in 3 hours for your tour

BEST PRICES
Reasonable price for your trip
Rent a Bus in Zurich from local company
Traveling should be easy. However, if you all come from large families, you'd need a fleet of cars to tour around Zurich. You'd also need to hire drivers since you are unfamiliar with the area. But you and your friends want to travel together since there is warmth in being around a group of people you are familiar with, and you do not want to incur the extra cost of hiring drivers. Circumstances would naturally force you to postpone your tour since you don't find a convenient way to tour Zurich.
1. Comfort
Any traveler would boldly confess that they hate traveling because of how crowdy some tours are. As a traveler, you want to be comfortable, you want to stretch your legs, and you want to be seated in a seat that can be easily reclined, allowing you to stretch your back and even allowing you to nap without having to worry about a neck cramp once you've woken up. That is exactly what our buses for hire offer.
If you bring your spouse to Zurich, our Mercedes V class will serve you right. It takes up to 7 passengers so that you can tag your kids or friends. It also has a great brake system; it is fast and convenient for any type of landscape your tour may hold. What is fascinating is that you don't have to worry about getting to your destination safely because the car has a driver who is familiar with the locality. You won't have to worry about connectivity as you tour around. What of the rates? They are the best rates in town. It is both convenient and cheap. That is the comfort we all want as we are traveling. This is simply traveling in luxury.
2. Accommodating
Suppose you are the owner of an IT company in the country. However, due to the nature of your job, you think your employees are drained, and you want to take them on tour around Zurich for team building. You, however, lack convenient means for your 40 employees. Mercedes Tourismo, by hiring a bus, takes up to 59 passengers, and this allows you to have your employees socialize as they tour Zurich. What's more interesting is you wouldn't have to ask any of your employees about the responsibility of driving the bus.
You'd travel as a pack. It also has amenities such as Wi-Fi and TV, microscopes for you to get awesome views en route, and microphones. If you have no idea where to take your employees for team building, our team will help you choose a suitable destination. What is more fascinating is that if you are not from Zurich, we can also pick you up at the airport and drop you off at the airport after your tour. You would not have to worry about traffic jams and being late for your flights because our drivers know exactly which route to take. Our rates are also the best there can be for group travel.
3. Flexibility
.Consider your female best friend is having a wedding in a week. It has been on your bucket list to visit a hotel far north of Zurich. You have organized with the other fourteen bridesmaids to throw a bachelorette party in that hotel. You all want to travel conveniently and, after the party, get back home safely without hassle. You also don't want to ruin the surprise you have prepared for your friend's party. We've got your back. With our Mercedes sprinter minibus, which accommodates up to 19 passengers, you can make your friend happy without breaking your back. With our price rates, you can make your best friend happy without depleting your savings.
What's more fascinating is this minibus comes with a driver who will patiently wait for you and get you back home safely after the party. If that is not a win-win for us both, then what is? You also get to party without worrying about where you parked your car, if it will be towed, or if it will get a parking ticket.
Zurich is a town that is known because of its many tourist attractions sites. If you are considering touring Zurich, you obviously want the best time without the hassle and without having to worry about the connectivity of your maps to visit the historic sites. You also don't want to worry about where to park your car during your vacation period. You should be relaxed and happy, taking iconic pictures of the sites you visit. You should not have to break your back and hit the limits of all your credit cards to enjoy a good tour.
This is exactly what we are offering. Hire their Mercedes V for small group travel, Mercedes Sprinter for a group of up to 19 passengers, or a large group, hire Mercedes Tourismo. You can tour this great country without worrying about any of those issues. You can also travel with your friends and enjoy epic sceneries together. Our team of assistants and drivers is friendly and ensures you get to your destination safely. This is travel made easy. A quote will be provided within three hours. Let us make this experience awesome for you. Traveling with comfort and ease has never improved, thanks to the Zurich traveling agency that has made everything seamless. You get what you pay for.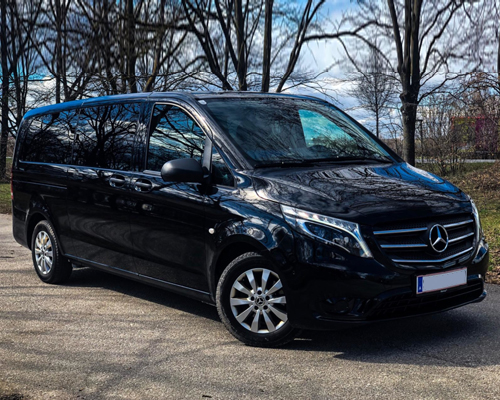 Mercedes V class / Vito - up to 7 pax.
If you need a minivan for your events, or you have a small group we can offer you a modern Mercedes V class/ Vito with driver.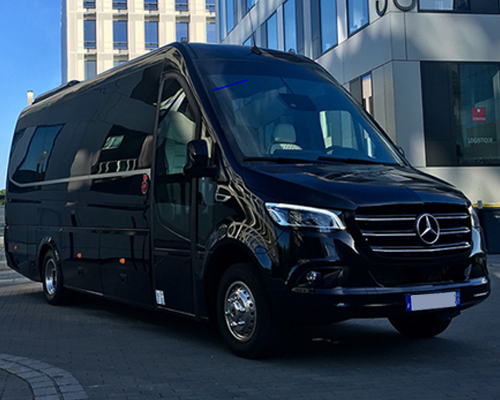 Mercedes Sprinter - up to 19 pax.
If you have a slightly bigger special event in mind, then a minibus Mercedes Sprinter is the ideal choice, since it can welcome 8-19 passengers on board.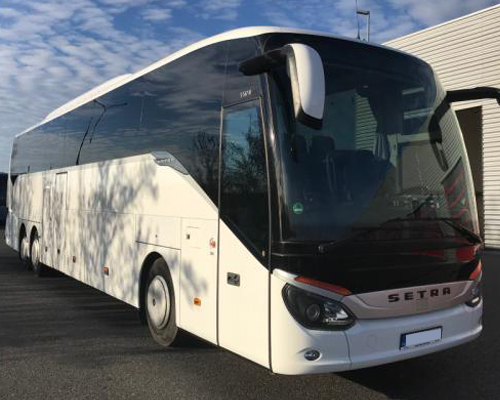 For any large scale events we strongly recommend you to rent a bus, our comfortable Mercedes Tourismo, which can carry from 20 to 55 passengers.