Passenger Transportation Service

LARGE FLEET
From 6 seater minivan up to 50 seater bus

24/7 SUPPORT
Free fast quote in 3 hours for your tour

BEST PRICES
Reasonable price for your trip
Rent a Bus in London with Hire Buses
Are you planning a trip or an event and need to know where to hire a bus or minibus in London? London is the home city of some of the world's biggest attractions. From Buckingham Palace and Westminster Abbey to the Tower of London, there's never a shortage of things to see. Of course, if you're going on a day trip, it's perfectly reasonable to hire a bus or minibus in London as part of your itinerary. But what if you want to explore London on your own? Would it be possible to get around without hiring a bus rental with driver in London?
The answer is yes, but it would be a lot more difficult. London is one of the most populous cities in the world, with an estimated 8 million people living in the city. It's not like you can just walk to your destination—you have to get on a bus or a train, and those can be very crowded at peak times. The only way to avoid standing up for long periods of time or wishing you were somewhere else is to hire your own transport—for example, a minibus rental in London.
What is Bus Hire Service?
Bus hire in London is a service that allows you to rent a luxury bus or minibus to take you and your group wherever you want to go. For example, if you're planning a trip to Buckingham Palace, bus rental in London is the best way to make sure that everyone can see everything they want without fighting through crowds. You might also like this service because it's possible to contact an agency directly; there aren't any middlemen who might interrupt your plans.
Why Rent a Bus in London?
There are many reasons you should hire a bus in London. If you're interested in visiting the city, but don't have time to plan a trip, it's important to know about bus hire in London. Not only does it take care of the logistical concerns that can make a trip hard to handle, but it also lets you enjoy all of your time visiting the city instead of stressing over getting from one place to another. Here are some of the benefits of bus hire in London:
Convenient and flexible
Hiring a luxury bus allows you to choose the route, time, and duration of your trip so that it fits into your schedule. This makes it possible for you to get from one place to another at a time that works for your group. While waiting in line at the airport, it's possible to have a relaxing tour of London instead of waiting forever to get on a plane.
Cost saving
Bus hire in London is much more cost-effective than taking a standard mode of transportation. Depending on the size of your group, it might be possible to rent a bus for less than you think. At the same time, it makes sense to get a good deal on a bus or minibus rental in London because it's such an efficient way to navigate London. This can save you hundreds of pounds or dollars while still letting you see everything that's important to you.
Comfort
Renting a luxury bus, mini-bus, or coach in London is a great way to enjoy the city while you travel. In addition to being more convenient than other modes of transportation, buses are also comfortable and spacious. This makes it possible for everyone in your group to have a good time without standing up the entire time.
For What Occasions Can You Rent a Bus in London?
Business
You can hire a bus in London to go to work, whether it's to the office or back again. In fact, when you are a group of work colleagues, it's important to have a comfortable ride on your way to and from the office. You'll appreciate the time to relax while you're on the bus, and your colleagues may find it easier to focus on their work.
Touring
If you are visiting London for a short period of time, you might like to rent a luxury bus or minibus in London. It's possible that you don't want to spend all of your time walking around when you're in London. Instead, it's better to have a luxurious ride that can take you to all of the most important places on your itinerary.
Graduation
If your child is graduating from college and has moved to London, you can spend more time with them and other members of the family by taking a trip around London in style. This is one way to show them how proud you are of their accomplishment by renting a nice bus or minibus that the entire family can enjoy.
Weddings
Weddings are happy occasions, but they can also be very stressful. If you're planning on attending a wedding in London, why not rent a nice coach or minibus in London to make the ride more enjoyable for you and your guests? You'll all appreciate the comfortable ride, especially if the bride or groom has invited you to stay at their apartment instead of a hotel.
Type of Buses Available
We have a variety of buses that we offer our clients. It's important to know how much space you will need when it comes to choosing the right bus for your needs. There are three different kinds of buses available:
Minivans 6-8 Seater- Mercedes V Class
If you are a group of 8 people or fewer, you will probably want to go with a minivan. The minivan has plenty of room for you and your friends. We offer Mercedes V Class minivans that have 6 or 8 seats.
Minibuses 8-19 seater – Mercedes Sprinter
This type of bus will accommodate up to 8-19 people. The minibus is perfect for a large group because it is spacious. There's plenty of room for everyone to relax and enjoy their time while they're on the bus.
Buses 20-55 seater – Mercedes Tourismo
Our largest buses can accommodate up to 55 people. These are great for large groups of people, especially if they're all traveling together. We have a variety of different models of buses; you can choose the one that is right for your group.
The Cost of Hiring a Bus in London
The cost of bus hire in London varies depending on the size of your group and where you're going. With this type of service, you can get a quote as soon as you make contact with one of our representatives. We will ask you a few questions so that we can know better how to serve your needs. After that, we'll be able to give you more information about the cost of bus hire.
Also, depending on where you're going, you may have to pay additional fees and taxes. These are the things that we will need to keep in mind when we work with you to make sure that you get everything that you need at a good price. You will be informed if there will be some additional fees before we go ahead with the booking.
Having a bus or minibus in London is a great idea for anyone who wants to see the city and isn't in a hurry to do so. It's easier than taking public transportation or trying to find parking, and it's more convenient than getting stuck in traffic. Whether you're going to visit London with work colleagues, as a family, or with friends, it's important to make sure that everyone has fun while they're touring the city.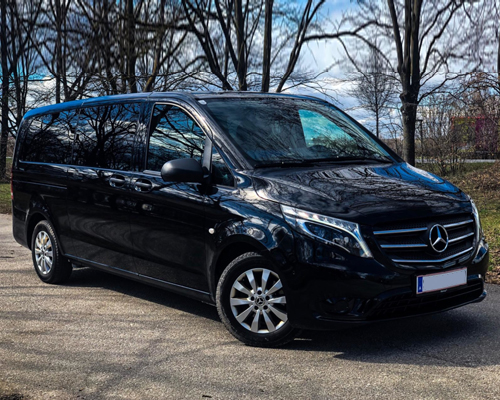 Mercedes V class / Vito - up to 7 pax.
If you need a minivan for your events, or you have a small group we can offer you a modern Mercedes V class/ Vito with driver.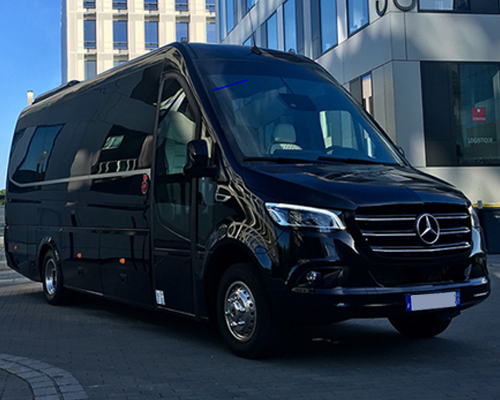 Mercedes Sprinter - up to 19 pax.
If you have a slightly bigger special event in mind, then a minibus Mercedes Sprinter is the ideal choice, since it can welcome 8-19 passengers on board.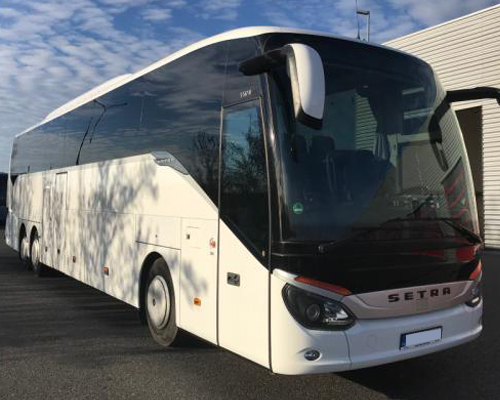 For any large scale events we strongly recommend you to rent a bus, our comfortable Mercedes Tourismo, which can carry from 20 to 55 passengers.