Passenger Transportation Service

LARGE FLEET
From 6 seater minivan up to 50 seater bus

24/7 SUPPORT
Free fast quote in 3 hours for your tour

BEST PRICES
Reasonable price for your trip
Rent a Bus in Helsinki from local company
Helsinki, the bustling capital of Finland, is one of the most exciting cities in Europe, and for reasons beyond the stunning architecture and vibrant culture. Due to the city's unique geographical location and positioning within the European Union, Helsinki is an ideal destination for visitors from all over the world who are looking to explore.
If you're planning a large conference or a small family reunion or looking for the best way to explore the city and its surroundings, we can help you get where you need to go. We offer a wide range of charter vans and buses for any occasion: corporate travels, congresses, events, sightseeing tours, airport transfers, and more.
We have made bus rental in Helsinki easier and more cost-effective than ever before with our comprehensive range of services that include:
Variety of vehicles that can accommodate 7 to 50 passengers
Professional and friendly drivers with extensive local knowledge
Customized tour itineraries for any budget, schedule, or destination
Clean and comfortable vehicles with audio/video system, free WiFi, air-conditioning, and other extras
Convenient pick up and drop off locations, with flexible scheduling
24/7 customer support service
When you choose us, you are sure to get the best charter bus hire with driver in Helsinki. Our team of professionals works hard to make sure you have the best experience while traveling with us. With our high-quality services, professional staff, and competitive prices, you can be sure that your trip in Helsinki will be an unforgettable experience. So book your charter bus rental with us today and let the adventure begin!
Benefits Of Hiring A Charter Bus Service
1. Affordable for Groups and Events:
Charter bus rentals are significantly cheaper than other transportation options, making it a great choice for groups and events. Plane tickets and car gas prices can quickly add up, and renting a charter bus can be the most economical option for transporting large groups. It may not seem like much of a saving, but when you factor in other expenses such as road taxes, maintenance fees, and parking fees, the total cost of a charter bus rental can be surprisingly economical.
2. Easy and Stress-Free Group Travel:
We organize every transportation detail before you arrive in Helsinki so that traveling with us is as comfortable and stress-free as possible. With a charter bus rental, all of your passengers can stay together, and you don't have to worry about coordinating rides or finding parking. Our drivers are experienced in navigating through the city and its surroundings, so you can just sit back and enjoy the ride.
3. Professional and Reliable Service:
We take pride in providing our clients with the highest quality of service. Our drivers are highly trained and experienced, and they can help you plan the best route for your journey. Our fleet of charter buses is clean, modern, and well-maintained to ensure a safe and comfortable ride. Your safety is our top priority; we include insurance and liability coverage with every rental service. Plus, our customer support team is available 24/7 to answer any questions or concerns you may have.
4. Flexible and Customizable Service:
We understand that each customer has different needs, so we offer a variety of services to ensure you get the best charter bus rental for your trip in Helsinki. Our team can custom-design an itinerary and schedule to perfectly fit the size of your group and your budget, as well as any special requirements or requests. With our flexible services, you can be sure that you will get the value for the money you deserve.
What Bus Should You Hire?
Our fleet of charter buses and vans offers plenty of options to suit all types of travelers. We have 7, 12, 15, and 20-seater minibusses, as well as larger coaches that can accommodate up to 50 passengers. You can choose from standard buses with basic amenities or luxury coaches with plenty of extra features. Whatever you choose, our team will make sure you get the best service for your needs and budget. The type and size of your preferred choice will depend on the following factors:
The size of your group and the number of passengers
Your itinerary and the type of terrain
What occasion you are traveling for
Special features needed for your trip
The amount of luggage you need to transport
Your budget
Which Places Can You Visit in Helsinki?
With its rich history and vibrant culture, Helsinki is a great destination to visit with your charter bus rental. Some of the most popular attractions in the city include:
1. Suomenlinna sea forest: For some outdoor adventure and spectacular views, head to the historic Suomenlinna sea fortress. Here, you can explore the beautiful fortifications, relax in one of its many lounges and enjoy some fresh seafood.
2. The National Museum Of Finland: Take a journey through Finland's history by visiting this iconic museum. You can explore its permanent and temporary exhibitions, as well as visit its library and cafe.
3. Linnanmaki Amusement Park: Have some fun with your family at one of Helsinki's largest amusement parks. With its thrill rides, water attractions, and family-friendly attractions, you're sure to have a great time!
4. Helsinki Cathedral: Take in the beauty of this iconic landmark, located in the heart of Helsinki. You can admire its neoclassical architecture and get a breathtaking view of the city from its observation deck.
5. Seurasaari Open-Air Museum: This open-air museum is perfect for those who want to explore the country's rich history and culture. Here, you can explore over 100 buildings from different eras, including traditional wooden houses and churches.
6 Esplanadi: Take a stroll at the lovely Esplanade and explore its many shops, cafes, and galleries. This is the perfect place to find souvenirs or take a break from sightseeing
Our top-quality transportation services come with experienced drivers and the highest standards of customer service, to ensure a hassle-free and comfortable journey. Booking is easy, just let us know the number of passengers, pick-up and drop-off points, and any other requirements you may have and we'll take care of the rest. We guarantee professional, on-time service with no hidden charges or surprises.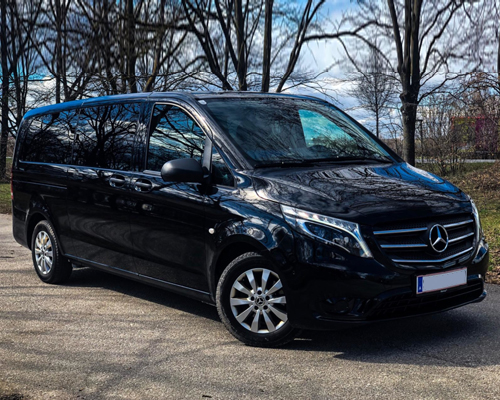 Mercedes V class / Vito - up to 7 pax.
If you need a minivan for your events, or you have a small group we can offer you a modern Mercedes V class/ Vito with driver.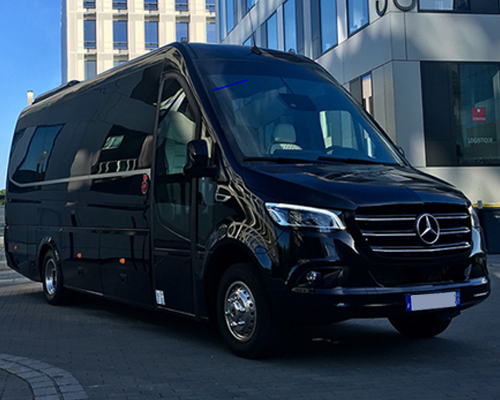 Mercedes Sprinter - up to 19 pax.
If you have a slightly bigger special event in mind, then a minibus Mercedes Sprinter is the ideal choice, since it can welcome 8-19 passengers on board.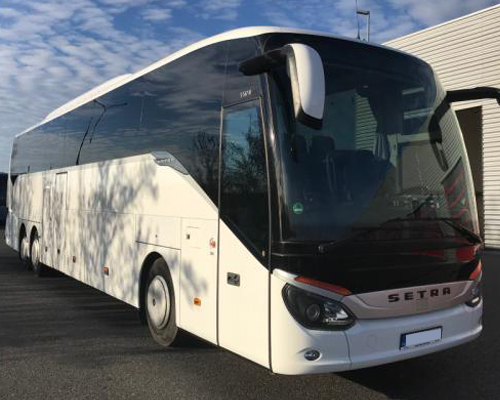 For any large scale events we strongly recommend you to rent a bus, our comfortable Mercedes Tourismo, which can carry from 20 to 55 passengers.