Passenger Transportation Service

LARGE FLEET
From 6 seater minivan up to 50 seater bus

24/7 SUPPORT
Free fast quote in 3 hours for your tour

BEST PRICES
Reasonable price for your trip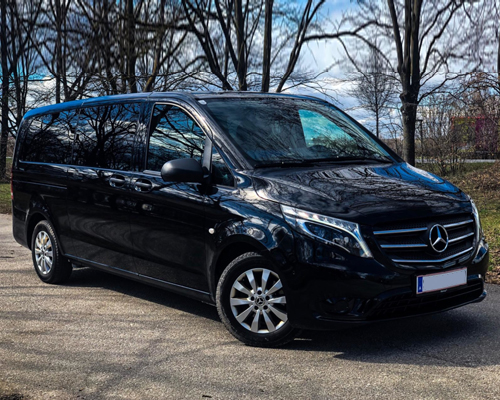 Mercedes V class / Vito - up to 7 pax.
If you need a minivan for your events, or you have a small group we can offer you a modern Mercedes V class/ Vito with driver.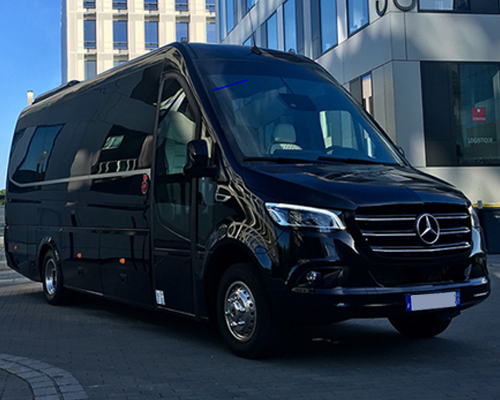 Mercedes Sprinter - up to 19 pax.
If you have a slightly bigger special event in mind, then a minibus Mercedes Sprinter is the ideal choice, since it can welcome 8-19 passengers on board.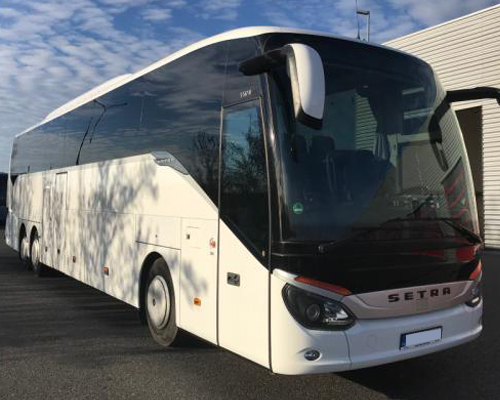 For any large scale events we strongly recommend you to rent a bus, our comfortable Mercedes Tourismo, which can carry from 20 to 55 passengers.

Private Coach Hire in Bordeaux ​
France is a beautiful country and Paris is at the heart of that. There are many advantages to bus or coach hire in Paris. It can help you get around to see the essential sites in and around the city, like the Musée du Louvre, Pantheon, Place de la Concorde and much, much more.
When you opt for a charter bus in Paris, you can also travel to places beyond the city and really get a taste for the beauty of France. Whether you are a visiting tourist, travelling for a business event or a local with guests coming, there are many advantages when you rent a bus in Paris.
Advantages of bus hire in Paris
There are three fundamental advantages of bus rental with a driver in Paris:
It's cost-effective
It's flexible
It's comfortable and spacious
It absolutely trumps renting a car, because with a dedicated driver on board you can all indulge in some fabulous French wine.
A cost-effective choice
The primary advantage of bus hire in Paris is that it is an affordable option for getting around. In Paris, there are lots of taxis around, but the cost of just a single, short journey is enough to start eating into your wallet. You will pay a starting price plus a cost per kilometre and that will quickly add up.
A charter bus in Paris is paid for by the hour, regardless of distance, and the rates are very affordable. Your bus and driver will be there for you whenever you need it, ready to take you where you need to go at the drop of a hat.
Flexibility
This leads us onto the second major advantage when you rent a bus in Paris. You will have the flexibility to travel anywhere you want to. Standard bus tours follow a specific route, but when you choose bus rental with a driver in Paris you can plan the entire trip.
Even if you make a plan, you can change your mind whenever you want. The stops are not set in stone, and you can always ask your driver to pull over if you spontaneously see something you want to explore.
Comfort and space
Finally, bus hire in Paris trumps car rental or taxis because of the space you get. You don't have to jam your things into a small cab; even if you are travelling with a group and all of you have suitcases, there will be ample storage to pack everything out of the way.
There is lots of space for luggage, and there is plenty of legroom for you and your companions. This means comfort and convenience, and you can bring things along that might be useful. Fancy taking a picnic to a park? Bus hire in Paris means you have the space to store it for the journey.
Conclusion
As you can see, coach hire in Paris provides many benefits. You will travel in comfort and style, with the flexibility to plan your own journeys and stop whenever and wherever you want. You will be bale to bring as much stuff along as you want, and all of that comes at an affordable price.
When you choose Hire Buses for your charter bus in Paris, you get all those advantages and more. We guarantee competitive prices, a safe and reliable service and all the comfort and flexibility you could hope for. For bus rental with a driver in Paris, Hire Buses today.
Bus rental service for every occassion
Business
Comfortable minivan for business trips, will allow you to relax before the upcoming interview or conference.

Tours
Friendly excursion with a class or group, accompanied by an experienced and responsible driver.

Weddings
You can order a large comfortable bus for a friendly and cheerful company or a minivan for a cozy trip.

Airport
We can provide both permanent transfers to airports and a private single flight. In any case, the trip will be comfortable.

Corporate
Corporate travel will be even more pleasant with our flights. We provide only comfortable transportation.

Family
You can rent a compact minivan for a friendly family trip to rest or a trip to another city or country.