Passenger Transportation Service

LARGE FLEET
From 6 seater minivan up to 50 seater bus

24/7 SUPPORT
Free fast quote in 3 hours for your tour

BEST PRICES
Reasonable price for your trip
Rent a Bus in Brussels with Hire Buses
Hiring a charter bus in Brussels is ideal for those travelling in a group of six people or more. For example, if you are a group of travellers or if you're on your way to a business meeting or an unmissable event, it's almost guaranteed that it'll be far more convenient to rent a bus in Brussels to get your group from A to B safely and on time. Having a driver means you don't have to worry about hiring a bus, insuring it and then driving your guests around, you can simply sit back and relax!
Why bus hire in Brussels is the solution you need
We have a large, modern fleet of buses suitable for all group sizes. Our polite drivers will not only get you safely to your destination, but they'll also be able to take you on a beautiful route to Brussels. You could take in the sights of Bordeaux en route, spot famous landmarks and get those Insta-worthy photos. There's a wealth of beautiful places that our coach hire in Brussels will allow you to see. But best of all? Our prices. You might think bus hire in Brussels is expensive, especially for a private bus for a group, but we promise we'll offer you a reasonable price. We also don't leave you hanging around – once we receive your enquiry, we'll have a quote sent back to you within three hours meaning you can get on with planning your trip. There are absolutely no hidden costs or extras for our private and discreet service.
Travelling around Brussels? Why not consider bus rental with driver in Brussels?
Whether you're going on a tour, getting married or simply need airport transfers, we've got you covered. For small groups of six or eight, we can offer you a modern Mercedes V Class or medium-sized groups of up to 19 passengers can enjoy the luxury of our Mercedes Sprinter. Got a big group? No problem! We have a comfortable, modern Mercedes Tourismo which can carry up to 55 passengers and has a WC, Wifi and TV, perfect for picking up tourists at the airport and bringing them to your venue. We also have a microphone, perfect for pointing out those glorious sights en route! We have a range of destinations from Paris to Bordeaux to Geneva and Nice. If you want to plan a special trip, a coach hire in Brussels could be the perfect way to do it. Our friendly, experienced team can offer you a wealth of advice and can give you tips for places to go and things to do when you're in town.
Hire Buses have it all:
Experienced, polite drivers, a range of buses and best of all reasonable prices. So if you're planning your next trip and wondering how to get your group from one place to the other, why not get in touch with us? We'll provide you with a quote within three hours and can offer you knowledge, experience and maybe even give you a few ideas to make your trip truly unforgettable.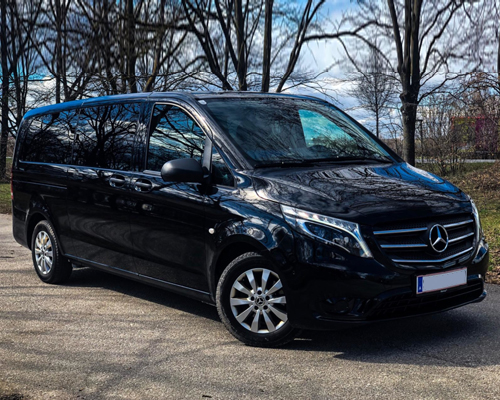 Mercedes V class / Vito - up to 7 pax.
If you need a minivan for your events, or you have a small group we can offer you a modern Mercedes V class/ Vito with driver.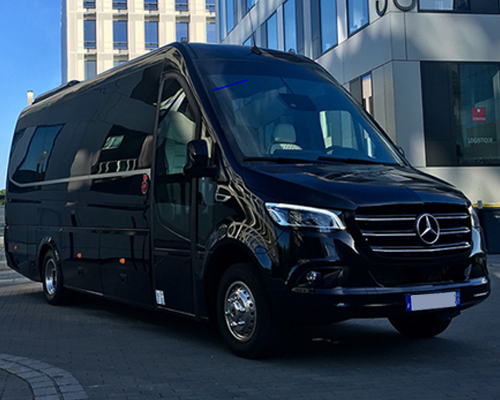 Mercedes Sprinter - up to 19 pax.
If you have a slightly bigger special event in mind, then a minibus Mercedes Sprinter is the ideal choice, since it can welcome 8-19 passengers on board.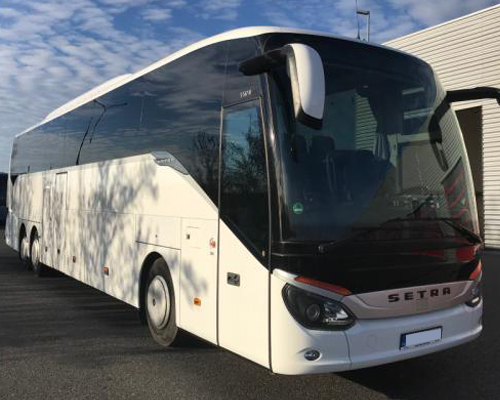 For any large scale events we strongly recommend you to rent a bus, our comfortable Mercedes Tourismo, which can carry from 20 to 55 passengers.