Passenger Transportation Service

LARGE FLEET
From 6 seater minivan up to 50 seater bus

24/7 SUPPORT
Free fast quote in 3 hours for your tour

BEST PRICES
Reasonable price for your trip
Rent a Bus in Athens from local company
Bus rental service means hiring buses to reach places in a city. A group of people often attend a meeting or they come to Athens as tourists. Now, they can search for bus rental in Athens and they can rent a bus. Thus, they can reach their destinations comfortably, safely, and conveniently.
How Bus Rental Services Can Benefit You?
1) Saves Money
The best part of hiring a bus in Athens is that you can save money. If you are new to this city, then you may have to find your destination.
For example – you want to go to the Temple of Olympian Zeus. Now, if you are 5 or 6 people, then you may have to hire different vehicles to reach that place. But hiring a bus can be cost-efficient. Because you can tour the entire Athens and there will be a fixed rent. Thus, hiring a bus would be a smart option to travel to Athens.
2) Saves Time
Public transports never maintain their schedules. A group of 5 or more people may have a meeting to attend or a party to join. In that case, you must be punctual.
A bus rental service in Athens can help your group to visit your place on time. Apart from that, after the end of your tour or meeting, the bus can also help you to return to your place (hotel or home). In this way, hiring buses is a better option than choosing public transport.
3) Safe Journey
Athens is a big city and it's an old city. As a result, you may not know all the streets or roads in Athens. Even if you have a phone or map, it might be difficult for your group to discover famous places in Athens.
For example – You may want to visit – The Acropolis or Syntagma Square. But you don't know how to reach the Acropolis. Hiring a bus with a driver can solve this problem.
You can search for – bus hire with driver in Athens and you can rent buses. You and your people would visit Athens safely and you would not have a headache finding a place in Athens.
4) Comfortable and Spacious
Public transport is not a comfortable option to visit a city or to attend an office meeting. But hired buses are comfortable. You may have 10 people with you. But your group would find enough places to sit. Whereas public transports are not so comfortable and spacious. If you have luggage or bags with you, then it would not be easy for you to carry them safely. Hiring a bus in Athens would be a wise decision as you would visit Athens comfortably and safely.
5) Easy And Convenient Option
Renting a bus In Athens is really easy. Nowadays you just have to make a call, book a bus, and you can pay digitally. So, why would you go on the street to find public transport. Hiring a bus with a driver is an easy and convenient way to visit Athens.
Why Would You Rent A Bus In Athens?
1) To Visit Athens
You may want to visit Athens and you may want to know this city more. In that case, you may visit the popular tourist places in Athens by bus.
2) To Attend A Meeting
Business meetings or corporate tours need comfortable and confidential transportation. So, you can rent a bus and you can attend business meetings without being worried.
3) For Weddings
To attend a wedding, you should rent a bus. A bus can have over 50 passengers. As a result, you can attend a wedding with a large group.
4) Family Trips
You, your family, and your friends may want to go for a vacation in Athens. In that case, you can hire a bus and you can go on a comfortable family trip.
5) Private Transport From The Airport
Sometimes business members want to reach their hotels in private transport. You can hire a bus or a van for your business clients or board members.
Who Are We – Hire Buses?
Hire Buses offers luxurious, comfortable and prompt bus rental services. We have a large fleet of buses and we have trained drivers. Apart from that, we go the extra mile to satisfy all our customers. Hence, 'Hire Buses' is a reliable company for hiring buses in Athens.
Why Do People Trust Our Bus Rental Services?
1) Buses, Mini Buses, and Vans
We have buses, mini buses and vans for all occasions. Our vans have a 5 to 7 people seating capacity. Our mini buses are perfect for 8 to 18 passengers and our buses have up to 55 passenger seats.
All of our vans and buses are luxurious. You will get a microphone, WIFI and TV on our buses. Our Mercedes V class vans, Mercedes Sprinter mini buses, and Mercedes Tourismo buses will give you a highly comfortable journey.
2) Customized Services
We are ready for weddings, family trips, business tours, city tours, and airport transportation. We have professional drivers and we can take you to any place in Athens. For special events and celebrations, we can decorate our buses accordingly. Even our buses are perfect for birthdays and anniversaries.
3) 24/7 Customer Support
We respond quickly and you will get 24-hour support from us. Athens could be a new place for you. So, you may have many queries. Once you hire our buses, we would support you consistently. So, if you are searching for – a bus rental in Athens, then you should contact us.
4) Honest Pricing
Our bus rental services offer the best prices. We don't overprice our bus rental services and we would never dupe you. So, trust us and experience reasonable bus rental services in Athens.
Bus Rental Cost In Athens
Our Company – Hire Buses – can send you a quote within a short time. But it would not be right to declare a price before knowing your purpose and destination.
First of all, you have to choose a vehicle. Then, you have to tell us where you are going, how many people are with you and how long will be the tour. Apart from that, you may need amenities or you may want to rent the bus for a special occasion. After considering all these factors we would be able to tell you the bus rental cost in Athens. Hence, visit our site and fill up the form to get a bus rental quote quickly.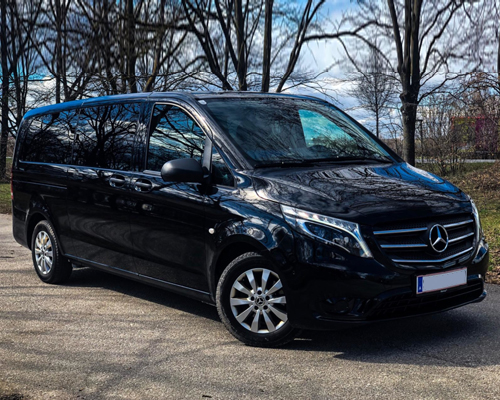 Mercedes V class / Vito - up to 7 pax.
If you need a minivan for your events, or you have a small group we can offer you a modern Mercedes V class/ Vito with driver.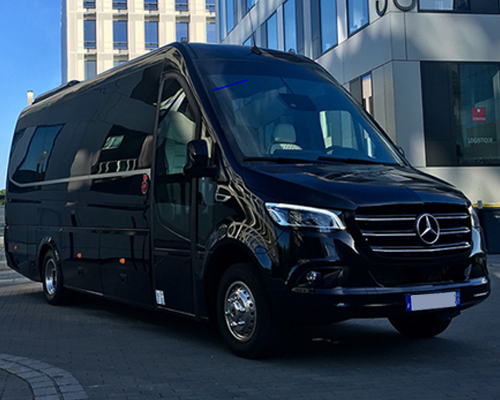 Mercedes Sprinter - up to 19 pax.
If you have a slightly bigger special event in mind, then a minibus Mercedes Sprinter is the ideal choice, since it can welcome 8-19 passengers on board.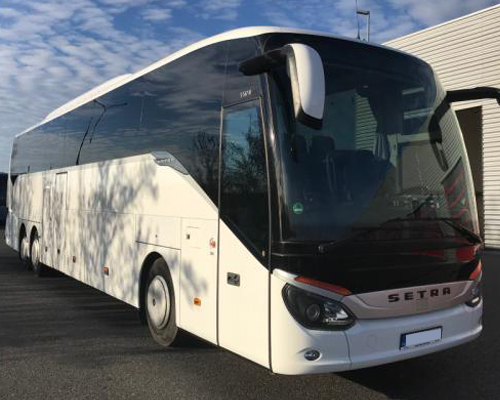 For any large scale events we strongly recommend you to rent a bus, our comfortable Mercedes Tourismo, which can carry from 20 to 55 passengers.