Passenger Transportation Service

LARGE FLEET
From 6 seater minivan up to 50 seater bus

24/7 SUPPORT
Free fast quote in 3 hours for your tour

BEST PRICES
Reasonable price for your trip
Rent a Bus in Copenhagen with Hire Buses
Copenhagen, the capital city of Denmark, is one of the most beautiful and charming cities in Europe. With its stunning architecture, rich cultural heritage, and lush green parks, Copenhagen is an ideal destination for tourists and business travelers. Whether you are planning a family vacation, a group trip, or a corporate event, bus rental in Copenhagen is a convenient and cost-effective way to get around the city and explore its many attractions.
Benefits of Bus Hire with Driver in Copenhagen
Traveling by bus is a convenient and comfortable way to explore Copenhagen, as it offers a range of benefits compared to other modes of transportation. Firstly, bus rental in Copenhagen provides a stress-free and hassle-free travel experience. With a professional driver at the wheel, you can sit back, relax, and enjoy the city's scenic views without having to worry about navigating through traffic, finding parking, or dealing with public transportation.
Another advantage of bus hire with driver in Copenhagen is that it is an ideal solution for large groups. Whether you are traveling with a large family, a sports team or a corporate group, our large fleet of buses can accommodate groups of various sizes, from tiny mini-buses to full-sized coaches. With ample space for luggage, comfortable seating, and air conditioning, our buses are designed to provide a comfortable and spacious travel experience for everyone.
Many visitors also appreciate the low cost of traveling in our buses compared to other modes of transport. Our bus rental prices are also affordable for individuals and businesses, providing an efficient and cost-effective transportation mode at a very reasonable price.
Types of Buses and Capacity Options
We offer a wide range of buses to suit different needs and budgets, from mini-buses that accommodate up to 18 passengers to full-sized coaches that can seat up to 55 passengers. Our fleet of buses includes air-conditioned vehicles equipped with modern amenities such as Wi-Fi, power outlets, and comfortable seating.
In addition to our standard bus rental options, we also offer luxury bus hire services for those looking for a more upscale travel experience. Our luxury buses have premium amenities such as leather seating, onboard entertainment systems, and even a bar area. These luxury buses can accommodate up to 55 passengers and provide a more luxurious travel experience that may be worth the extra cost.
Prices for Different Types of Services
The cost of bus rental in Copenhagen depends on various factors, such as the bus type, the rental period's length, and the pick-up and drop-off locations. However, our prices are competitive and offer great value for money, especially when compared to the cost of hiring multiple cars or navigating public transportation with a large group.
In addition to our standard bus rental services, we also offer customized packages to suit your needs. Whether you are looking for a day tour of the city, a transportation solution for a corporate event, or a multi-day tour of Denmark, our experienced team can help you create a customized package that meets your specific needs and budget.
The price is based on your pick-up location and drop-off location, the length of the rental, how many seats you need, and if you need the vehicle to be a regular or a luxury one.
We offer free delivery to any destination in Copenhagen city centre. We do not charge for parking; however, you may be charged by the venue you visit. Don't hesitate to get in touch with us for more information about prices.
Places to Visit in Copenhagen
Copenhagen has a rich cultural heritage and a wealth of attractions for visitors of all ages. Some of the must-see places in the city include:
The Little Mermaid: This iconic statue is one of the most famous landmarks in Copenhagen and is a must-see for first-time visitors to the city. This is one of the few remaining copies of the statue that was first built in the 1930s, and the original Little Mermaid statue is located in Copenhagen's harbor.
The Tivoli Gardens: Located in the heart of Copenhagen's city center, this garden was once a famous amusement park for locals and visitors from around Europe. Today, the Tivoli Gardens are a popular tourist attraction and a beautiful green park with magnificent architecture.
The National Museum: This museum offers a fascinating insight into the history of Denmark and features a range of exhibits, from ancient artifacts to modern art. It is the largest museum in the Nordic Countries and offers something for everyone, including a planetarium, an aquarium, and a science center.
The Rosenborg Castle: This stunning Renaissance castle is home to a collection of royal treasures, including the Danish crown jewels. These treasures are displayed in an attractive exhibition space, which features a 360-degree rotating room so visitors can enjoy the exhibit from all angles.
The Christiania: This self-governing community is a unique and vibrant part of Copenhagen that offers a glimpse into alternative lifestyles and is known for its street art and rich culture. Here you will also find an eclectic mix of antique shops, Victorian-era architecture, and colorful cafes offering a variety of food and beverages.
The Nyhavn: This charming harbor area is a popular spot for tourists and locals alike and is lined with colorful buildings and lively cafes and restaurants.
The Strøget: This pedestrian street is one of the longest and oldest shopping streets in Europe and is lined with a range of shops, restaurants, and cafes.
The Amalienborg Palace: This palace is the residence of the Danish royal family and is surrounded by beautiful gardens and parks.
Copenhagen on a Budget
Copenhagen offers visitors an exciting and affordable way to experience Denmark's most beautiful city. Our services are comfortable and present you convenience, flexibility, comfort, and value for money. If you plan a trip to Copenhagen, our bus rental with driver services provides an efficient and cost-effective solution that provides the equivalent travel experience to other modes of transportation.
Hiring a bus is made even more accessible with our convenient booking system, which allows you to call our office or fill out our online form for immediate help. With short notice, we will provide you with all the information and details about your bus rental in Copenhagen.
In conclusion, bus rental in Copenhagen is a convenient and cost-effective way to explore this beautiful city and its many attractions. With a range of buses to choose from, competitive prices, and a professional team of drivers, we offer a high-quality transportation solution for tourists, business travelers, and large groups. Whether you are planning a family vacation, a group trip, or a corporate event, bus rental in Copenhagen is the perfect way to experience the best of what this city has to offer.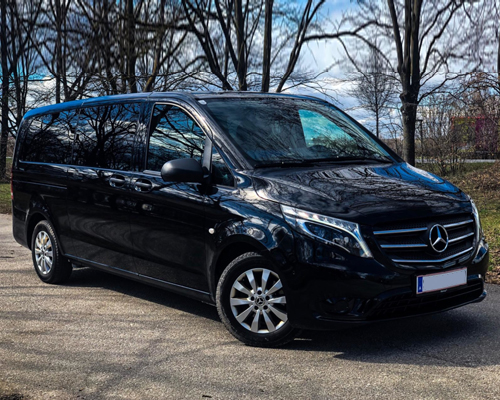 Mercedes V class / Vito - up to 7 pax.
If you need a minivan for your events, or you have a small group we can offer you a modern Mercedes V class/ Vito with driver.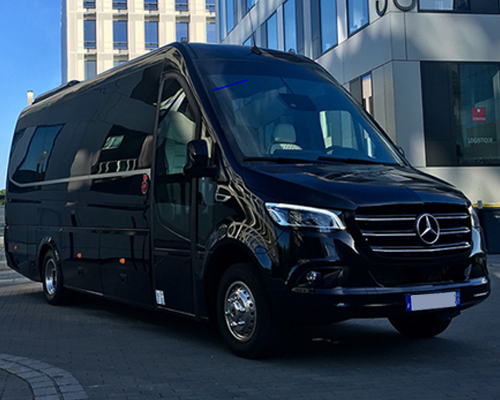 Mercedes Sprinter - up to 19 pax.
If you have a slightly bigger special event in mind, then a minibus Mercedes Sprinter is the ideal choice, since it can welcome 8-19 passengers on board.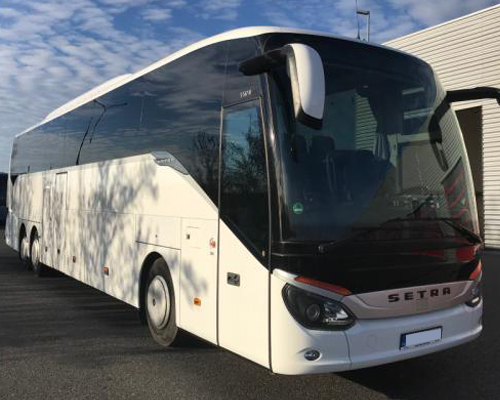 For any large scale events we strongly recommend you to rent a bus, our comfortable Mercedes Tourismo, which can carry from 20 to 55 passengers.